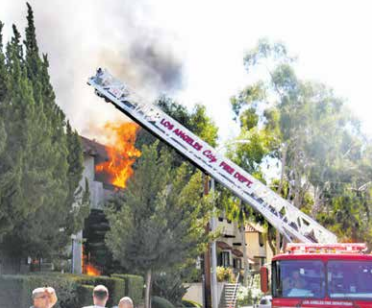 On October 8, there was an apartment fire at 10141 N. Samoa Avenue. The structure is a two-storey townhouse over a parking structure. The fire extended from the garage through to the second floor of the unit. The adjacent unit was saved.
Firefighters made good progress up to the second floor where they experienced heavy heat. Roof operations opened up ventilation to facilitate continued interior attack. There were 46 fire fighters on the scene with additional resources requested, which brings the total to 68-plus L.A. County Fire Department personnel.
It was a welcome sight to see Sonia Tatulian on scene calming down and placating the residents. Three residents suffered from burns and were transported to a local hospital.
The arson squad was called to investigate the fire and five adults need American Red Cross help to find emergency lodging.