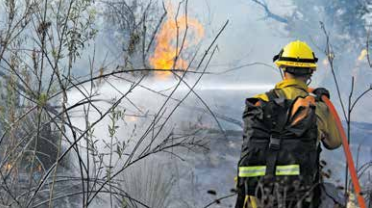 This Tuesday, there were five "spot fires" along the 210 freeway west starting at Paxton. This was after Sunday's fire (October 9) in the Hansen Dam wetlands which consumed nearly one acre.
As firefighters arrived and a helicopter water ship flew overhead, it was found that there were three to four separate fires going in a line at the base of the Hansen Dam. As firefighters fought the blaze, another fire was started near the corner of Paxton and Glenoaks.
The Hansen Dam fire was attacked by LAFD from the Wentworth side while L.A. County and Angeles National Forest crews attacked it from the Wheatland off-ramp on the 210 east.
Although it only took 90 minutes for the firefighters to call a "knock-down," crews stayed on scene for an additional five hours to make sure that it did not re-ignite.
LAFD Arson is investigating. No injuries nor structures were said to be threatened.