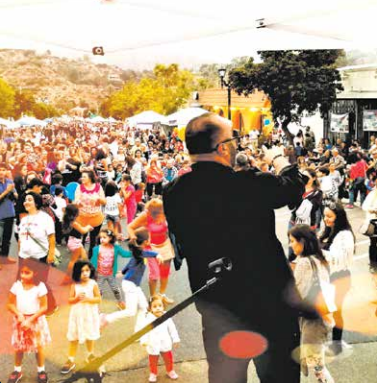 The First-ever Sunland-Tujunga Armenian Arts and Culture Festival brought the town together as thousands of people turned out for this phenomenal event. The event was held on Commerce Avenue, the historic commercial corridor with an old town feel. "We chose this location because of the potential to activate this historic core while bringing the community together in a celebration of Armenian Art and Culture." said Edwin Miranian, one of the organizers and a small business owner on Commerce Avenue.
The event attracted more than 80 vendors which included a mix of Armenian artisans, a kids' zone with a petting zoo and various games along with arts and crafts. There was also a "health zone" where members of the public received free health screenings, spine checks and acupuncture and in which many local small businesses and vendors from all over Los Angeles also participated.
Many board members of the Sunland-Tujunga Neighborhood Council (STNC) were present to conduct outreach, including STNC President Krystee Clark.
"This is an amazing community event, and it's great to see our community come together and give life to Commerce Avenue," said Clark.
Admission to the festival was free thanks to an Arts Activation Fund grant from the City of Los Angeles Department of Cultural Affairs which also defrayed the costs of security, traffic control and license fees. It is estimated that more than 2,000 people participated during the 10-hour festival while enjoying the lineup of Armenian singers, dance troupes, comedians and performances from students from surrounding schools and organizations. A highlight of the festival was the presentation of a traditional Armenian Wedding Dance, performed by Adana Dance Group of Glendale.