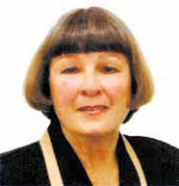 Sunland-Tujunga Neighborhood Council (NC) Member Amelia Anderson has been voted in by the NC board to serve on Mayor Garcetti's newly created Homeless Committee comprised of one member from each of the 97 NCs.
The purpose will be to convene biweekly to network in the discussion and sharing of ideas and solutions to the most basic problems of L.A.'s homeless with the purpose of getting people off the street as quickly as possible.
The term "homeless" includes the economic bottom 30 percent of our population. The causes of homelessness are: lack of affordable housing; tragedy i.e., death in the family, domestic violence, illness or job loss, lack of safety net and untreated mental illness or drug and alcohol addiction. But prolonged homelessness exacerbates the problems.
Actually, 82 percent of persons becoming homeless find housing within two weeks. But for those who don't, Housing First is a policy that has been adopted by the City of L.A. that centers on providing the chronically homeless with permanent housing right away, then offering other services as needed. It is appropriate that Anderson represents our town because she participated in a pilot program with L.A. Family Housing (LAFH) when they built Day Street, the Trudy and the Norman Louis Apartments, which is managed care housing. Under the aegis of former Councilman Philippe Fuentes' Homeless Work Group, it was the first time that four community volunteers interfaced with city and county social workers making use of the Coordinated Entry System to track and determine the needs of a specific community in identifying and documenting those in crisis, enabling a greater number of our townspeople to pass the rigid requirement for housing of both city and federal guidelines.
Statistics of working within the community by the four volunteers showed astonishing results. More locals were housed locally than in any other LAFH project. Housing opportunity opened up throughout the valley, some sporting swimming pools. The veteran count is down 6 percent, and the Sunland Tujunga count was lowered 54.52 percent. Sunland-Tujunga is the only community to address couples, and the LAFH took notice along with adjoining communities who wanted in. A program was developed using Sunland-Tujunga's experience that could be shared with other communities, and it caught the mayor's attention.