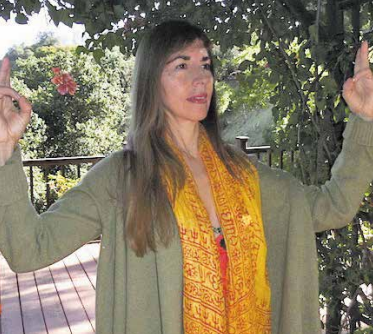 Nestled in the upscale community of La Crescenta at 4845 Dunsmore Avenue, holistic teachers, healers, artisans, presenters and unique products will be combined in one event.
Special Speakers: Scheduled throughout the day of the event will be four presenters speaking, sharing their professional knowledge, experiences and offering possible solutions. Some of these presenters are from our local community and others are noted authors and alternative health providers. Attendance to this event is free to the general public, with the presenters requesting a nominal suggested donation for exchange of their services while at the event. We're pleased to introduce the four presenters.
Kristin Dwan: 10:30 a.m. Kristin Dwan of The Healing Woods in Altadena, CA puts a nurturing fire under people's healing process and spiritual transformation as a Reiki Master Coach who has also been a practicing healer for 28 years. She is offering tarot readings, Chakra Balancing and Cord Cuttings via Reiki, and will be presenting a positive change process for her presentation. $10 suggested donation.
Tracee Dunblazier: 12:00 p.m. For twenty-five years, reknown spiritual empath and author Tracee Dunblazier has helped clients understand and gain power over the spiritual forces, and past life influences, that impact their present lives. Join her at the Faire on Saturday November 5th at 12 noon for a mini workshop. $10 Suggested donation.
David Hamilton Nichols: 1:30 p.m. Spiritual Teacher, Author, and Healer David Hamilton Nichols, in multiple states, has seen clients and given spiritual events and a hospital energy workshop. He will present "Know What Your Soul Already Knows." Learn to experience Divine guidance and your inner wisdom for help and healing. He will do mini-readings for the audience if time. He is offering intuitive reading and energy healing sessions all day. DivineBlaze.com. $10 Suggested donation
Ren Rasa Yogamaya: 3:00 p.m. Author Florence Ren Figueroa aka, Ren Rasa Yogamaya, E- RYT 500 is registered at the highest level with the Yoga Alliance. The Eat By Color Presentation Is Informational, a Reading and Answers to your Questions.* A New Intelligent Way to Eat – understand what color foods to eat and when to put them into your body. * For People of All Ages – teenagers, adults, and seniors. $10 Suggested donation
For more information, please contact Myrna Perez at maverick.marvels@yahoo. com.