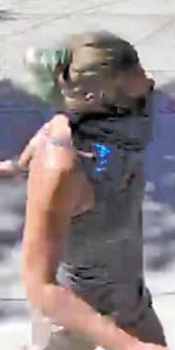 One of our readers submitted this photo of a transient stealing a large box from his front porch.
Burglaries and thefts have gone up in the Sunland-Tujunga area. Package thefts have been on the upswing with reported thefts throughout the community.
One surveillance camera showed a light blue van following a UPS truck and the thief getting out of the passenger side to steal the delivery made by the UPS driver.
The person of interest is a woman named Ashlee Kelly who lives in a homeless camp in the Big-T.