by Alejandro Magallanes
Nature is probably the most tangible way to experience divinity. It is vast and alive. Looking to the north, we see the green mountainside, teeming with life. Hikes on our local trails display the vibrancy of budding flowers and wildlife. And if you are a part of Sunland-Tujunga's Howard Finn Community Garden, you have the opportunity to experience just how tangible nature is by digging your hands into the soil of your own gardening plot.
On the last Saturday of January, Finn Community Garden chair, Eve Sinclair, hosted a presentation at the Sunland-Tujunga Branch Library titled The Importance of Planting Native. An informative talk given by Lisa Novick from The Theodore Payne Foundation enlightened the audience on the importance of planting California native plants in our homes and gardens.
Novick asked us to rethink our views of California native plants. She asked a question: "Out of nearly 6,000 different plant species native to California, what percentage of those do you think are succulents?" I guessed 30%. Not even close. Only 2% of California native plants are succulents. Yet, when she tells people she works with California native plants, she often hears, "Oh, you work with cacti and weeds." Not at all. When it comes to beautiful gardens, California natives reign above all others. When world renowned Irish gardener and journalist, William Robinson, visited California, he wrote about our state being "the country of flowers."
She explained how we rely on pollination from European honeybees, yet we have our own California native honeybees, whose stinger is onethird the size and seldom penetrates human skin. California has the blue belly lizard that carries a protein in its blood that kills the bacterium responsible for Lyme disease, therefore lessening the amount of adult tick carriers in our region. She reminded us that leaves are the fertilizer. "Think with a forest mentality," she pleaded.
She also informed us that our ecosystems are in danger. She gave a scenario. A local species of bird may have a nest filled with 4 hatchlings. Each hatchling needs approximately 150 caterpillars a day to eat for food. That is 600 caterpillars that mama bird needs to find daily to feed her babies. The problem arises when she can't find the caterpillars because they only grow on local native plants that have been torn out of the ground by home owners and replaced with plants that better suit their urbanity.
We are living in a time on earth where the ecosystems are the most densely populated and diverse that horticulturists have ever seen… and we are trashing them. As members of a beautiful foothill community, we have a responsibility to protect and proliferate our dwindling ecosystem.
There are actions we can take. When considering changes to your home or community garden, first visit The Theodore Payne Foundation at 10459 Tuxford Street in Sun Valley. You need only visit them with the answer to three questions: 1. What is the size of your garden site? 2. How much sunlight does the site receive? 3. How much water does your soil take? (there is a soil test available on their website: theodorepayne.org)
And if you find yourself a little intimidated with gardening and plant life, I invite you to visit and like the Finn Community Garden page on Facebook. There you will see how just a few community members with no experience in gardening were able to revive a garden and inspire a new generation of young horticulturists.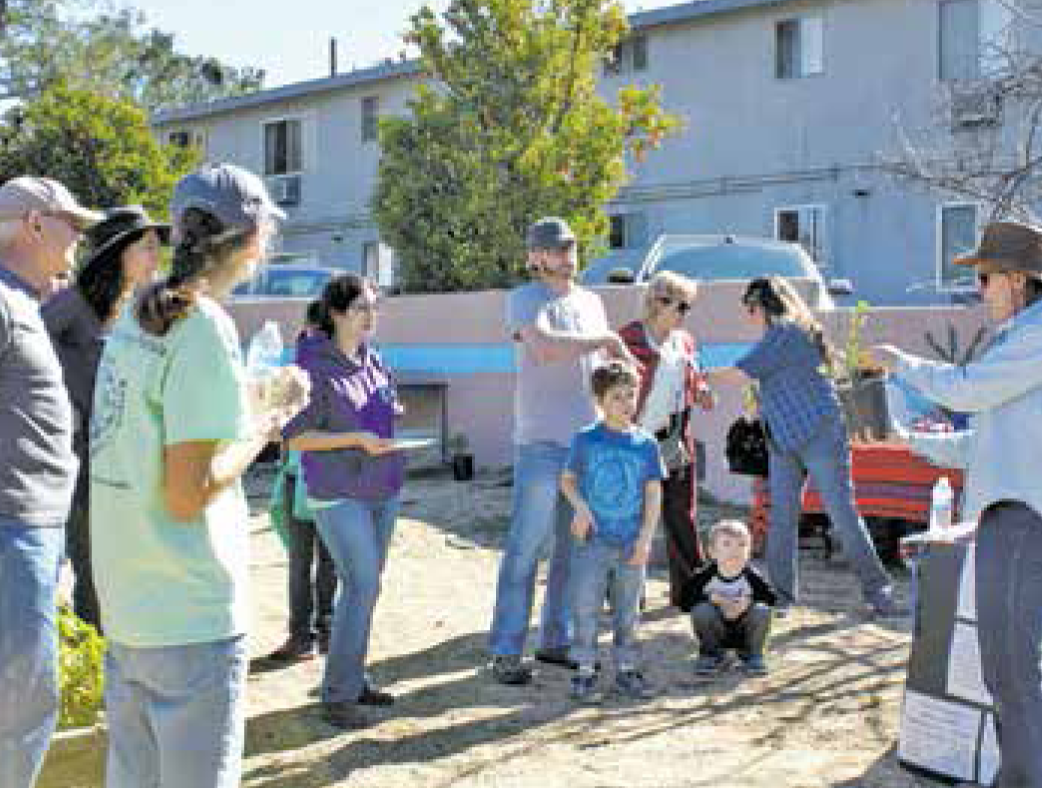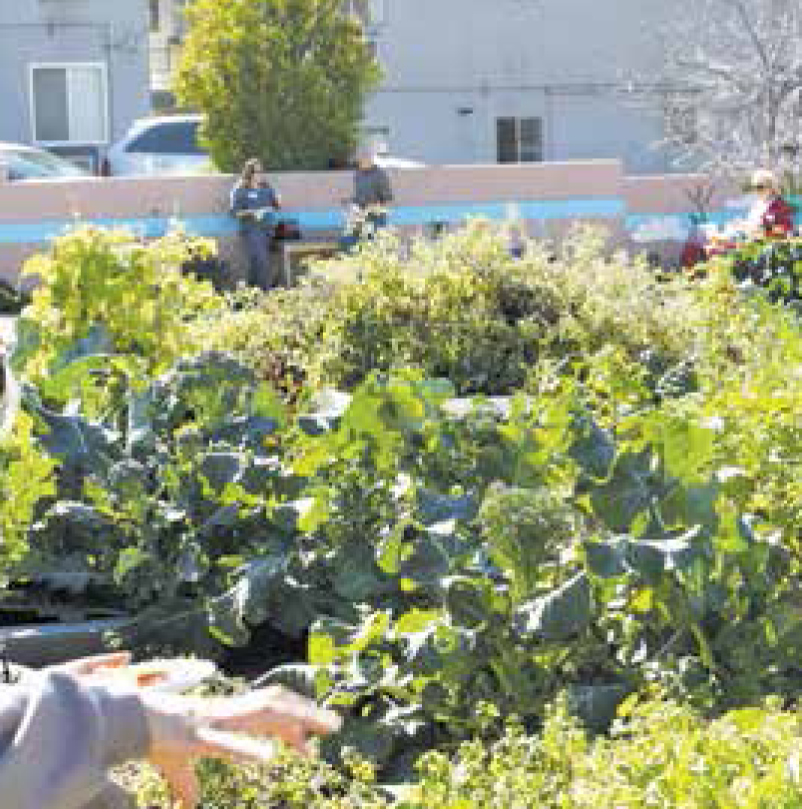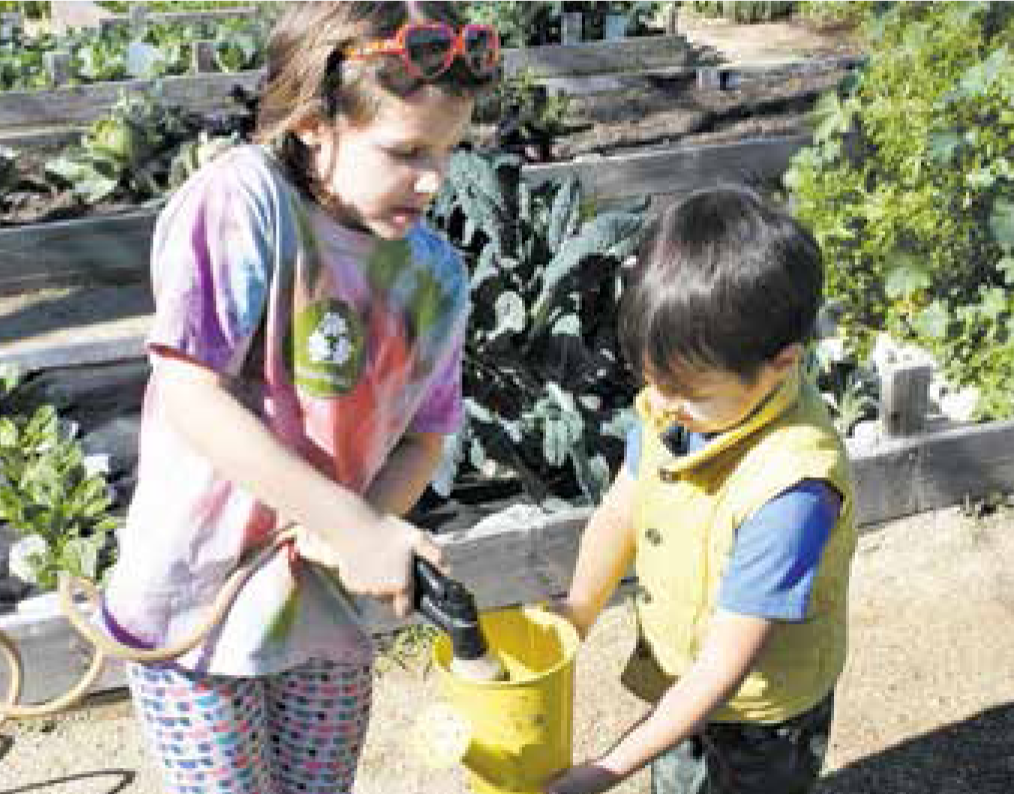 Above, Ms .Lisa Novick teaches Finn Garden Members how to properly transfer a potted plant into the ground, while Yvette Bravo DiMino nurtures her plot, and Noah, 6, teaches Elijah, 4, how to water her family garden.