by David DeMullé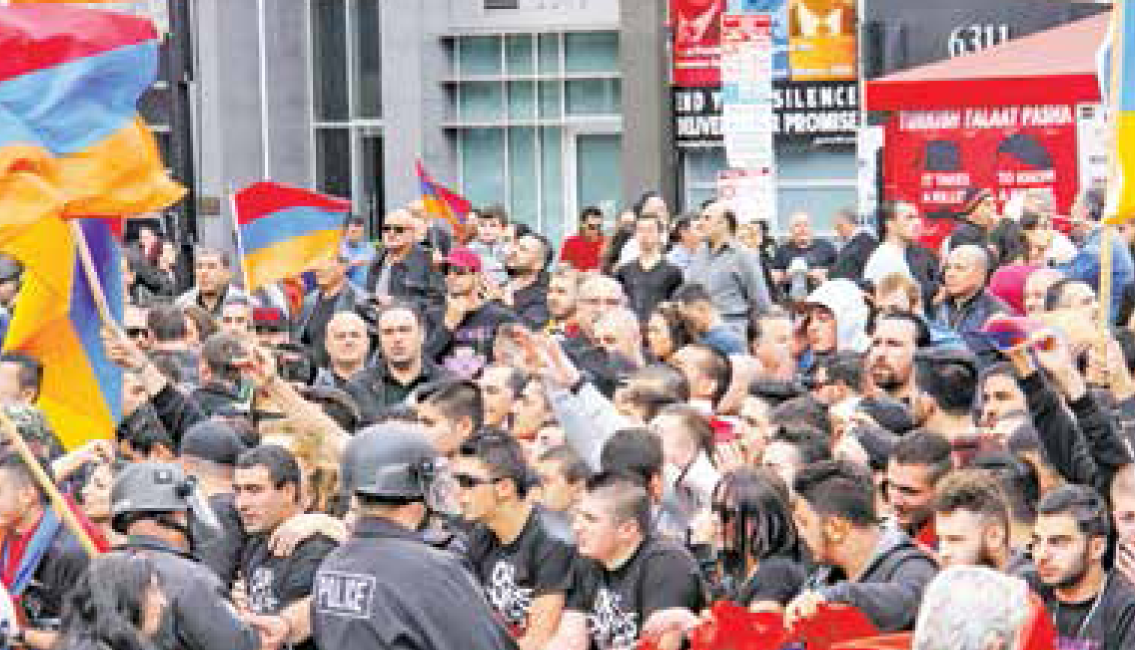 As people boarded the bus at Great Caesar's Banquet Hall Monday, the atmosphere was festive, more like a large extended family getting together for a BBQ. Men, Women and children, some with homemade signs and others with T-shirts proclaiming "I DEMAND JUSTICE" peacefully boarded the bus to embark on a 1.4-mile march that began at Pan Pacific Park and on to the Turkish Consulate on Wilshire Boulevard in Los Angeles.
At the same time, a second march that was organized by the Unified Young Armenians, that they called a "March for Justice" to mark the 102nd anniversary of the Armenian Genocide, began at the intersection of Hollywood Boulevard andLittle Armenia. Small planes flew overhead, one pulling a large Turkish flag and another pulling a banner that read "Stop Armenian Lies." It is estimated that over 10,000 people came to the protest.
California Lieutenant Gov. Gavin Newsome, former L.A. Mayor Antonio Villaraigosa and L.A. Councilman Paul Krekorian walked with the demonstrators. The march continued to be peaceful even when Turkish supporters began throwing eggs and water bottles. An occurrence that we've seen happen every year that we've attended.
Every year, politicians ask the sitting US President to declare that the US recognize the Armenian massacre as a Genocide. Rep. Adam Schiff, D-Burbank, and Rep. Dave Trott, R-Michigan, last month introduced a resolution asking Congress to formally recognize the genocide.
"Over 100 years ago, the Ottoman Empire undertook a brutal campaign of murder, rape, and displacement against the Armenian people that took the lives of 1.5 million men, women, and children in the first genocide of the 20th century," Schiff said.
"It's just a reason people are frustrated with politics and politicians," Newsome said. "Just stand up for what you believe, have clarity and conviction. People will disagree or agree with you, but at least people will know where you stand."
President Donald Trump issued a statement Monday proclaiming Armenian Remembrance Day. "Today, we remember and honor the memory of those who suffered during the Meds Yeghern, one of the worst mass atrocities of the 20th century," he said. "Beginning in 1915, one and a half million Armenians were deported, massacred or marched to their deaths in the final years of the Ottoman Empire. I join the Armenian community in America and around the world in mourning the loss of innocent lives and the suffering endured by so many."
Schiff in turn attacked Trump for failing to recognize the events as a "genocide." Schiff stated, "Today, we received a disappointing statement from yet another president, refusing to acknowledge the murder of 1.5 million Armenians from 1915-1923 for what it was: a genocide," "We are very proud of our state for taking this position and we will continue to work with our elected officials," Hovsepian said. "President Trump now joins a long line of both Republican and Democratic presidents unwilling to confront Turkey, and by refusing to do so, he has made the United States once again a party to its campaign of denial."
A local Web site called "Nextdoor Cougar Canyon" removed the posting of Rep. Schiff.s statement, announcing, "A message you posted was reported and removed for violating Nextdoor's Community Guideline: Don't use Nextdoor as a soapbox."
There are more than 200,000 people of Armenian descent who live in Los Angeles County, making Southern California the home of the largest Armenian community outside of Armenia.
There was no age barrier as people from all walks of life came with their families to commemorate the day. There were children in strollers, people with children on their shoulders and people with walkers. Emotions ran high but created a aura of solidarity amongst them.
"Until justice is served we will continue marching," said Nora Hovsepian, chair of the Western Region of the Armenian National Committee of America. "We are very proud of our state for taking this position and we will continue to work with our elected officials," Hovsepian said.
"At a time when Christians and minority communities continue to be in imminent danger and under constant attack, the president's statement fails to stand up for human rights," Armenian Assembly co-chairs Anthony Barsamian and Van Krikorian said in a written statement.
The United States has consistently avoided labeling the killings as a genocide because of its close alliance with Turkey — a strategic mutual aid partner in the Middle-East. Western Avenue in