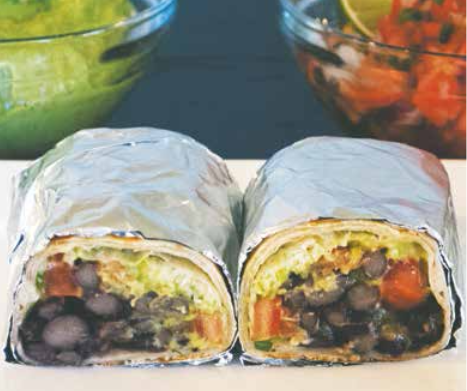 I think we can all agree that a good burrito is made with fresh ingredients. The right combination of ingredients, however, is what distinguishes a good burrito from a great one. Here are my recommendations for what a great burrito must include at a minimum:
• Fresh flour tortillas. Handmade tortillas are preferable to store-bought ones.
• A variety of colors, textures and fresh flavors. Mono-filling burritos are boring.
• Beans. I love rice but not in my burrito. Rice tends to make a burrito mushy and doesn't add all that much flavor.
• Pico de Gallo made with farm-fresh ingredients. This provides texture and flavor.
• Creamy guacamole. This is an additional flavor layer.
• Tangy Monterey Jack cheese. Nuff' said.
• Grilling. This provides a crispy outside texture – but not too crispy. The burrito must still be chewy.
I don't agree that burritos should include a mound of fancy fried potatoes, or worse yet, French fries. Too trendy for me. I like my burritos to be uncomplicated yet tasty; familiar yet unique. Take that San Diego!
What makes them unique to Ojai is my use of local, farm-fresh tomatoes, onions, cilantro, chilies, garlic, avocados, kale and limes. Fresh cactus leaves with which to make nopalitos are available at local farmers' markets or you can find them already processed and pickled at one of your local markets.
Ingredients:
5 medium and firm tomatoes (¼-inch dice)
1 medium white onion (peeled and diced)
¼ cup fresh cilantro (chopped fine)
2 jalapeño chilies (seeded and chopped fine)
1 medium clove garlic (peeled and minced)
2 tablespoons fresh lime juice
Salt and fresh ground
black pepper to taste
4 ripe avocados (peeled and pits removed)
3 tablespoons red onion (chopped fine)
¼ cup fresh cilantro (chopped)
1 large clove garlic (peeled and minced)
1 teaspoon fresh lime juice
2 tablespoons Mexican Crema
½ teaspoon salt
2 serrano chilies (retain seeds and chop fine)
½ cup pickled nopalitos (drained – Doña María is a good brand)
½ teaspoon extra virgin olive oil
1 teaspoon lime juice
⅛ teaspoon cumin powder
Pinch of salt
3 large fresh kale leaves (ribs removed and leaves cut into ribbons)
2 cups cooked or canned black beans (rinsed and drained)
2 cups Sonoma Jack cheese (grated fine)
4 thin flour tortillas (12-inches in diameter)
Directions:
Combine the first 7 ingredients (tomatoes thru salt and pepper) in a bowl, cover and set aside. This is the Pico de Gallo. Add the next 9 ingredients (avocados thru nopalitos) to a blender and blend until just smooth. Pour into a bowl, cover and set aside. This is the guacamole. Combine the next 5 ingredients (olive oil thru kale) in a large bowl and toss to mix well. Set aside. This provides color, flavor and crunchiness.
Assembly:
Gently heat one of the tortillas on a grill over medium heat for about a minute. Place the tortilla on a clean work surface and add a base of beans down
the middle of the tortilla (about ½ cup beans per burrito). Layer two heaping tablespoons of Pico de Gallo on top of the beans. Layer 2 to 3 tablespoons guacamole on top of the Pico de Gallo. Layer ¼ of the kale mixture on top of that. Finish with ½ cup grated cheese. Once you have all the
fillings in place, pull the bottom half of the tortilla over to meet the top half. Then, pull the tortilla back. This will form the filling into a nice roll. Folds both ends of the tortilla over and tightly roll your burrito. Set the completed burrito aside (with the seam side down) and repeat this process 3 more
times. Place the burritos on a grill pre-heated to medium-high heat. Grill each burrito for 1 minute on one side, then turn over and grill for another 30 to 45 seconds on the other. Put the leftover Pico de Gallo and guacamole in dishes and serve as sides to the burritos.