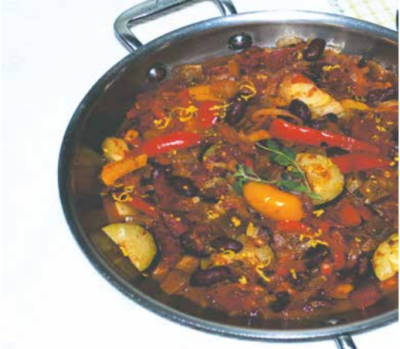 by Chef Randy
Ratatouille can be described as a vegetable stew. This Ratatouille is a hearty and thick vegan vegetable stew. Classic Ratatouille includes eggplant, zucchini, tomatoes, red onions and herbs. This recipe is different in that it includes all of the classic ingredients plus fennel, bay leaves, and harissa (to give it a kick).

I've also included kidney beans for extra protein. Serve with quinoa or rice on the side and a hunk of fresh bread for a complete meal.
Ingredients:
3 tablespoons extra virgin olive oil
2 small red onions (quartered and sliced thin)
1 yellow bell pepper (cut into thin 1½-inch strips)
1 red bell pepper (cut into thin 1½-inch strips)
1 large fennel bulb (trim and slice thin)
3 garlic cloves (minced) 2 medium zucchini (washed and cut into ½-inch rounds)
1 medium eggplant (peeled and cut into ½-inch dice)
1 28-ounce can diced tomatoes
4 sprigs fresh thyme
4 sprigs fresh oregano
2 bay leaves ½ teaspoon glutenfree harissa paste
1 cup water
1 15-ounce can kidney beans (rinsed and drained)
Salt and pepper to taste
Zest of 1 lemon
Directions:
Heat oil in large saucepan or Dutch oven over medium heat. Add onions, bell peppers, and fennel, and sauté 5 to 7 minutes, or until vegetables are translucent. Stir in garlic, then zucchini, eggplant, tomatoes, thyme, oregano, bay leaves, harissa paste, and water. If you like it spicy, use at least one teaspoon of harissa. Cover, reduce heat to medium-low, and simmer for 25 minutes. Add kidney beans, cover, and cook for 15 minutes more. Add salt and pepper to taste and garnish with lemon zest before serving.
For additional recipes, see Chef Randy's website at valley-vegetarian.com