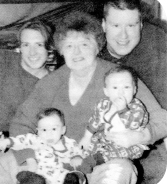 by Roger Swart 
Jo was born in Nova Scotia Canada (Cape Breton Island) on March 25, 1936 to William 0. Klohs and Maria Klohs. Both parents were born in Germany. Her father fought in World War I for Germany under The Kaiser.
After World War I, her parents came to Nova Scotia where her father was a coal miner. He and her mother raised both Jo and her two brothers, William (Bill) and Walter. Jo was the youngest. They later moved to Windsor, Ontario where Jo attended school up to the 11th grade and then in 1953, the family moved to La Crescenta, California. Jo graduated from Glendafe High School in 1954. 
After graduating high school, Jo was employed by Security First Na­tional Bank, Montrose Branch where she worked in the Loan Depart-ment. It was at this Branch in 1959 she met Roger E. Swart who was hired fresh from New York as a Teller. After Roger returned from serving in the Army/ California National Guard in 1962, they started dating and were married May 11, 1963 in Glendale, California. In 1966, Jo and Roger bought their home in Seven Hills, Tujunga, California. Their first son, Timothy Ear1 Swart was born July 26, 1968. Their second son, Russell Roger Swart was born September 18, 1970. Tim is married to Kathy Swart and they have twin sons, Ryan and Jacob, born March 13, 1996. They reside in Canyon Country. Russell is married to Jenn and they live in La Crescenta, California. Both our sons and daughters-in-law have good jobs and we are ever so proud of them. Our twin grandsons are doing well in the food in-dustry as they are carving their careers for bright futures. Jo loved her grandsons so much. 
In early 1975, Jo began working part-time with Kessler Jewelers in Burbank as their bookkeeper. She worked there for thirty years until the store closed in 2005. 
Jo was multi-talented and put love into everything she did: Cooking many of the German dishes her mother taught her to make; she made cookies by the dozen – each member of the family received their own Christmas Tin of Grandma's cookies. She collected recipes and filed them trying out new dishes for us all. 
She loved to crochet. Every member of the family that had a new born received one of Jo's baby blankets. Jo was a reader. Her favorite authors were Dick Francis, Stephen King, Nora Roberts, Catherine Cookson, Rachel Gibson, LaVyrie Spencer, and Agatha Christie just to name a few.
Jo and Roger were married 54 years and 10 months. The Swart Family is strong and will work through these hard times as they remember the many memories over these wonderful years together. Her memory will live on as we all know she has found a better place where pain and illness are no more. 
We All Love You (Roger, Tim, Russ, Kathy, Jenn, Ryan and Jacob along with her cats Patsy and Polly) My Wife, Mom and Grandma – A Life Well Lived!