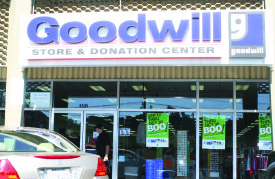 By Denise Garcia
Where do you go to step into a state of total delight? Where do you go to buy a thrill? Well. The answer is Goodwill, since September of 2000 this Goodwill Store located at 6545 Foothill Boulevard has been a successful operating business and a haven for its customers. Having an insight on this store from having been was once an employee here, I realized how truly special and unique this place is.
Hundreds of people walk in and out of its doors on a daily basis unaware of what is going to happen or what one might find. The Tujunga Goodwill (what some people call "Good Willy") is a place where many go to melt away stress, say hello to those you know and don't know, find what might be trash to one but treasure to another, and of course feed the shopaholic in all of us. What you will find here is never known and I personally believe that mystery keeps things exciting. As new merchandise is put out several times each day a wave of customers gather around the products searching for an item which fits their individual interests. The motives why people come to Goodwill all differ very much like the products sold at this very interesting place there is always something new, always something exciting, always something fun.
Guns and Roses Sweet Child of Mine is playing on the radio and as usual, I curiously scan through the store for something eye catching. But above all I remind myself I am here to write a story. Leaning on the blazer rack notebook and pen in hand I run into a familiar face I greet her "hello" and we begin a conversation about random topics. I ask her if she would like to answer a question for The Paper, and if she would like her name included in The Paper.
She shyly tells me she would answer the question but prefers to remain anonymous. I agree and I ask her "Why do you like to shop at this Goodwill? She answers enthusiastically "I am very glad to shop here because the prices are cheap, and I find very nice stuff which I send to my country, this makes them very happy." I wonder across the shiny blue and light green flooring, walking by rows of colorized sweaters, blazers, skirts, pants and a colorful selection of ties. I run into a tall blonde lady who politely told me she didn't want to be interviewed earlier. She glances at the jewelry, which is known to attract female clientele. I stand next to her and ask her if she is sure she doesn't want to answer the question, and she finally gives in. YES!
When I ask her "Why do you like to shop at this Goodwill?" her face lights up and she answers by telling me "Shopping at this goodwill is a joy. I thank her for her input and walk away yet to find myself with yet another known face at Goodwill, I walk over and say" hello Recordman'' and I ask him to answer a question and, he agrees. When asked the question why do you like to shop at Goodwill? He answers happily "ok I am going to break it down, I am less of a collector and more of a hunter. The thrill is getting a record I like for a buck" Whether you collect watches, jewelry etc. there is a sort of magic here! I get a tremendous amount of happiness shopping here it's like a buzz! , It's an addiction.
The other day I bought records, which were worth a lot of money for only a buck! Everyone enjoys a good deal!" I thank him for his time and ask him if he would like his name in the newspaper he says "no" but instead he says in a cool manor "put me down as the Record-man." Making customers happy is a reflection of the hard work and dedication which employees of Goodwill truly value. Take a break from the day's stress and visit goodwill, you'll have fun.