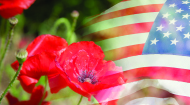 Thank you to all our supporters for our May 2018 Poppy Drive to help our disabled veterans.  This is the largest amount ever raised by the American Legion Auxilliary, Post 377 of Sunland-Tujunga, over $8,700.00 !!
Thank you everyone for your support.
Wendy Freeman – Poppy Chairperson
Please support our businesses that donated:
Bud Fales, Shadow Hills
The Foothills Paper, David "Doc" DeMulle'
Tony Chahine, O.D., Inc., La Canada
I.S.S. Independent Studio Services
Greg Bilson, Sunland
Berkshire Realty, Ray Merzkhanian, Sunland
Berkshire Realty, Sally Hall, Sunland
Gibson Ranch, Dale Heather, Shadow Hills
Sunland Transmission, Jeffrey Schmidt, Sunland
Retina Consultants, Dr. Vinh Tran, M.D., Glendale
Brad Korb Real Estate, Burbank
Kim Calvin, La Crescenta
Joselito's Restaurant, Tujunga
Mi Casita Restaurant, Sunland
SIG Property Management, La Crescenta
Michell Matson, Honolulu, HI
David Lunne Blair, Knoxville, TN
Dr. Kim Wong, Glendale
Sunland Dental, Homerira Firoozch
Mahrash Sadk, D.D.S., Sunland
John Bartlett, Sitka, Alaska
Justin Bartlett, Helena, Montana
Larry-Gwen Bartlett, Sunland
Doug-Joan Slater, Shadow Hills
Jana Wunderlich, La Canada
Ed Dorini Real Estate, Shadow Hills
Town Cafe, Saturnino Davila, Sun Valley
Bill Eick, attorney, La Crescenta
LeRoy Schamaus, USMC, Santa Ana
East Valley Feed Store, Sun Valley
Rise N Shine Restaurant, Shadow Hills
Wag My Tail Dog Groomers, Sunland
Dennis-Pam Weber, Shadow Hills
Jane Wada Dr., Montrose
Donna Sanchez, La Canada
Roderick Chapman, Chiropractic, Sunland
Christopher Reyes, attorney, Sunland
Beautiful Blooms, Sunland
Jason's Honda, Jason, Tujunga
Crow's Nest, Tujunga
Brian Mosdale, Shadow Hills
Candyce Laughlin, Sunland
Lisa Cody, Sunland
Shell Gas, Mo, Sunland
Dr. Donald Plance, Montrose
7-11, Sunland
V-Design Salon & Supplies, Sunland
LAFD Stations 24 & 74, Sunland-Tujunga
Crippen Mortuary, Montrose
TileMax, Sunland
Ken Daniels Automotive, Montrose
Avets Auto, Tujunga
Classy Jewelers, Sunland
New Moon Restaurant, Montrose
Thank you to everyone else that made this a great success.