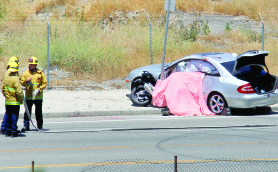 There was another fatality accident last Wednesday the 20th.  The shocking difference is that the driver of the automobile that caused the accident was also killed.  Witnesses stated that they heard the sound of the crash and ran out of their homes to see the wreckage of a motorcyclist that had been decapitated, was stuck in the door and side windows of a silver Mercedes-Benz.
First responders could do nothing until the LAFD arrived and pronounced the two drivers dead.  They then had to wait for members of the LAPD and the coroner's office to arrive.  Initial investigation revealed that the Mercedes driven by Ryan Blanks possibly ran through the stop sign without stopping and was struck by motorcyclist Wesley Davis who with his cycle drove through the side windows killing himself and Blanks.
Excessive speed is listed as the reason for the collision.  This was the 2nd motorcycle death that day and the 3rd fatality.