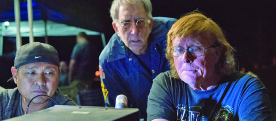 "We had a fantastic Field Day…Its getting better every year." Said Michael Lichtman (KF6KXG), President of the Crescenta Valley Radio Club (CVRC). Field Day had just concluded and all that was left in Verdugo Park was a folding table and a few boxes full of wire and connectors. The 15 or so club members that remained were standing in small groups on a beautiful sunny Sunday morning seemingly reluctant to leave. When looking at the small cadre of remaining club members, Mike said, "Excellent group of people." Other club members voiced similar sentiments.  Many had just spent the better part of 30 hours working together to make this year's Field Day a success.
Field Day is an annual event in which amateur radio operators (also called Hams) literally take their equipment to the field and try to make as many contacts as possible within a 24 hour period. On the surface, Field Day is a contest. The deeper purpose is disaster preparedness as Hams improve their skills in operating under conditions that are less than ideal.
Amateur radio operators are licensed by the Federal Communications Commission to operate on a host of frequencies via voice, Morse Code, various digital modes and even video or television. Collectively, Hams have the skills and equipment to communicate across town or around the world which makes amateur radio ideal for emergency communications. This year, CVRC made nearly 200 contacts across the United States and Canada. "This was my second Field Day but the first time on the air," said Joe Antczak (KM6ERG). It's a thrill to realize that you can talk to someone who is three thousand miles away," He continued.
In addition to emergency communication, the amateur radio service is dedicated to technical innovation. Tom Hendricks (K6THH) brought his home-built 10 meter antenna for testing. He made a contact with another Ham in Pasadena. Not a great distance but the antenna worked and looked quite impressive with its's 7 foot radial rods extending to the side resembling a giant up-side down ice cream cone. It should work very well when atmospheric conditions are better. Another amateur set up a small WSPR (Weak Signal Propagation Reporter) station. Ham stations around the world report to the network, located at Princeton University, any other low power amateur stations who are heard on various frequencies. This Ham's small transmitter was heard across the US and Canada, as far as the Cook Islands in the Pacific and the Canary Islands off the Coast of Africa. Not bad for a small Ham station radiating about as much power as one small incandescent Christmas-tree light. 
There were other technical challenges as well. There were large spools of wire to be unfurled, long lazy antennas to be draped across the giant sycamores in the park, a huge loop antenna to be placed and adjusted, power cables to be distributed, and transmitters to be set up with computers and properly tuned. Operators were on duty all night long. When the contacts became slim in the early morning hours, Bob Cesarone (WA9JIB) brought out his banjo and treated the sleepy Hams on scene to a little bluegrass concert. The whole operation was solar powered until the batteries began to fail about 2 am Sunday Morning due to the extended overcast the previous day. What do Hams do when confronted with a challenge?  Change the plan.  "We switched from all natural power to the emergency power option," said Gene Roske (AE6GR) which meant starting up the engine in his solar powered command vehicle. Improvise, adapt, overcome" could also be the moto of Ham radio operators on Field Day.
Field Day not only brought the members of the CVRV together, but there were many other non-practicing amateur operators or would-be operators who visited the site on Saturday and Sunday. While Field Day is typically a contest, it is much more. According to Mark Kanzler (KE6ZRP) "We make points by socializing."  Whether it was discussing radio propagation, antenna configurations, sharing family photos or carefully weighing-in on how a particular Swiss dialect sounded more like German than Dutch, most operators really seemed to enjoy the time in fellowship with others who shared a similar passion for the art, science and service of amateur radio. Of course, there was also the now traditional late night Chinese dinner that operators shared around a rented folding table in the cold darkness of Verdugo Park.  As one might observe, cold park… warm hearts and there were plenty of warmed hearts to go around. This was club member Gary Kiffel's (KM6NIP) first Field Day. Although just licensed last October, ham radio was something Kiffle said he had always wanted to explore.  "I was so pleased with the energy, camaraderie and the spirit." "This was my first opportunity to call CQ (invitation to have contact). I loved every minute of Field Day," Kiffel said.  Planning is already underway for next year.  What will you be doing the last weekend in June, 2019?
If you are interested in learning more about Ham Radio, how to become a licensed Amateur radio operator or would like to know more about the Crescent Valley Radio Club, visit the club's website at cvrv.club. The club meets the second Thursday of every month at 7:30PM at Verdugo Hills Hospital. All are welcome to attend.