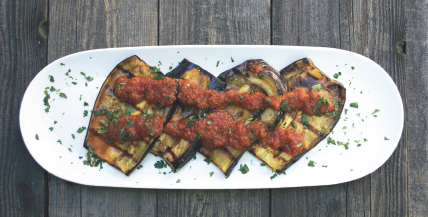 My friend, Vicky, came over to the house the other day lugging a large box. I hurried out to the porch to lighten her load. "I have all these peppers left over after making a wonderful spaghetti sauce", she said. "Would you be able to use the left over peppers before they spoil?" I accepted the box from her and replied, "Would I? You bet I would". What a great community we live in.
I actually had other plans for that morning but when one is given a gift such as this…well, I rose to the challenge. Although I roasted and used all of this super-ripe mix of peppers, here's how I specifically used some of the sweet peppers. The sauce makes a great topping for my grilled eggplant side dish!
Sauce Ingredients:
•
6 – 8 whole sweet peppers (or 4 bell peppers)
•
2 tablespoons pine nuts (roasted)
•
2 tablespoons olive oil
•
½ medium onion (finely diced)
•
8 cloves garlic (roasted)
•
½ cup heavy cream
•
Salt and pepper to taste
Sauce Directions:
•
Preheat grill to medium-high heat (about 400 degrees).
•
Grill the peppers with the cover open, until the skins begin to bubble and peel. Turn peppers every 3 minutes or so. Peppers will almost be all black when they are ready. Transfer to a large baggie and close the top carefully (peppers will be plenty hot). Let them steam in the baggie until cool enough to the touch – approximately 15 minutes. Peel, seed and skin peppers. Using a blender, puree peppers with pine nuts. Set aside.
•
In a skillet or pot over medium heat, drizzle in olive oil. Add onions and garlic and cook until onions are translucent. Pour in pepper puree and stir together. Reduce heat to medium low and pour in cream. Stir to combine and add salt and pepper to taste. Cover and turn off heat, leaving the pot on the same burner so it stays warm while you grill the eggplant. Cover until ready to spoon over eggplant.
Eggplant Ingredients:
•
2 large round eggplants (cut lengthwise into ½-inch-thick slices)
•
Extra-virgin olive oil
Salt and pepper to taste
Eggplant Directions:
•
Preheat grill to medium-high heat (about 400 degrees).
•
Lightly coat eggplant slices with olive oil and sprinkle with salt and pepper.   Grill for 5 to 6 minutes on each side or until tender. Remove from grill and immediately place on a serving tray. Drizzle red pepper sauce over eggplant and serve while still warm. Bring additional red sauce to the table!