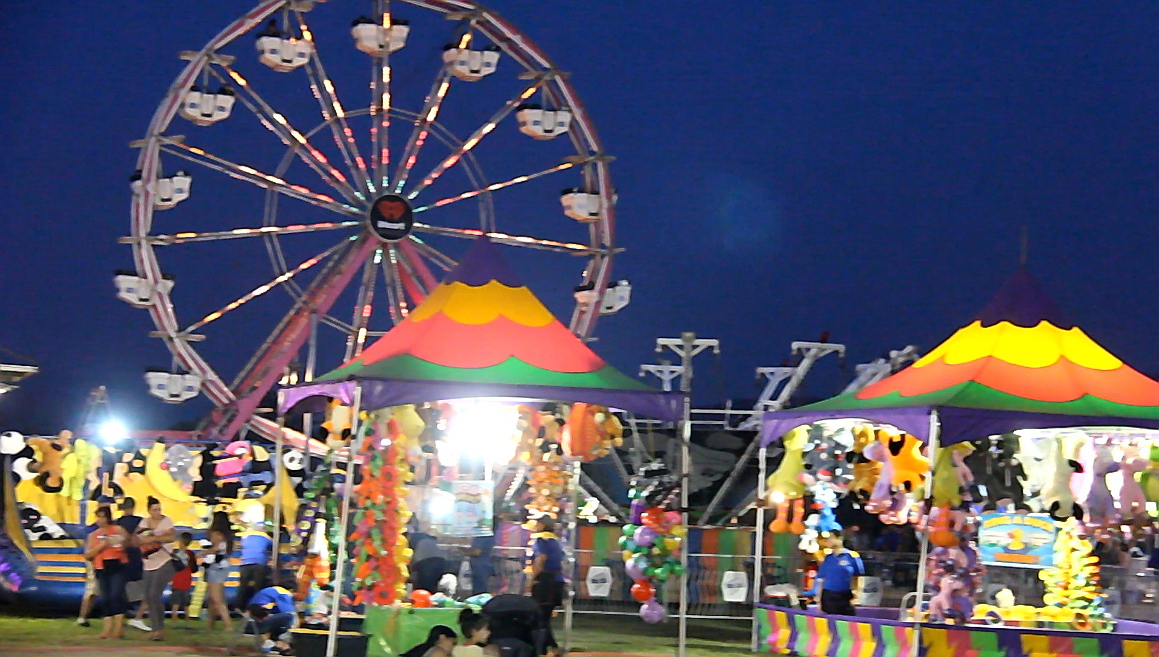 and the event brought together a consortium of church groups and local businesses to create a "hometown" atmosphere for Sunland-Tujunga and the surrounding communities.
More than 60,000 pounds of watermelon had been ordered to provide free watermelon to the expected 30,000 festival visitors. People arrived in costumes and comfortable dress expecting high temperatures. Fortunately, the temperatures stayed comfortable and dry except for those involved in the watermelon races who soaked up the water and watermelon juices as they slipped and slid across the watermelon raceway.
Just like "in the old days," the festival also featured watermelon carving, a watermelon relay, a watermelon eating contest, and a watermelon "wearable" contest.
"This is so fantastic, a fantastic amount of fun," said Festival Director Paul Butler, looking over the sea of smiling faces. "I want to create a legacy, a legacy that people remember what it was like to be with people from all over the country, having fun!" He said.
It was Butler who, as a Sunland-Tujunga chamber member, helped revive what was once known as the Sunland-Tujunga Lion's Club Watermelon Festival. This event brought together an eclectic group of people that all worked together to make sure that everyone had a great time. Pastor David Richardson of Firepoint Church who is best known for producing the WOWJAM, was part of the program bringing his expertise on setting up a large festival.
For decades, the late-summer festival had been held at Sunland Park, where it outgrew its limited parking. Then it moved to the Rose Bowl in Pasadena, then to the Santa Anita Race Track in 2014. The festival was discontinued during 2015 as the Lion's blub re-organized and new leadership brought in. Marynance Schellenbach, the "Grand Dame" of the Lion's Club retired and a new president was elected.
At this printing, it was unable to determine the actual costs of creating the festival, but with the use of computer generated tickets and an outside company doing the books, it looks like it is really going to be a windfall for our local charities and service organizations.
Last year was the first time at Hansen Dam Sport Complex and a lot of lessons were learned. For instance, this year, all departments were compartmentalized with managers overseeing each one. Event rides and concessions were provided as a package, security, trash pickup & visitor transportation were run by their respective managers reporting to Butler. "Just like a business" said one observer, and that made it a little less stressful, but very effective.
With over 13,000 visitors on Saturday and 15,000 on Sunday, just the act of cleaning up the watermelon rinds and keeping the Andy Gump's serviced could have been a problem, but wasn't. Everywhere you looked, there were children and adults having a great time. There were over 40 individual vendors and display booths providing something for everyone. Small children received a free pony ride and everyone could visit the petting zoo and reptile center.
People arrived in costume and spread cheer where ever they went. Sylmar and San Fernando High Schools provided over 150 student volunteers. Companies such as Hamer Toyota, Pepsi and Nestles all contributed to making this the largest community festival in the North East Valley.
Look forward to it being even bigger and better next year.