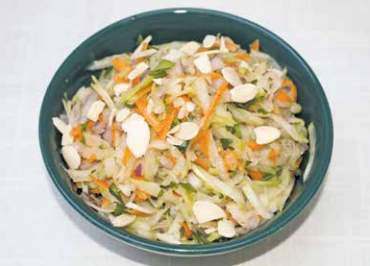 Chayote is an edible plant belonging to the gourd family Cucurbitaceae, along with melons, cucumbers and squash. It is defined by its unique pear-like shape, its pale lime green coloring and the deep indentations that run vertically along the fruit's skin.
Chayote is lacking in flavor but that's OK. It soaks up whatever herbs and/or spices you add to it. I use a spicy vinaigrette to give it flavor and then add carrots, bell pepper and red onions to give this slaw a nice crunch. Chayote's nutritive value includes a small amount of vitamins C and B-6, and is high in potassium. Because it is high in potassium and low in sodium, it is blood pressure-friendly. In fact, it is said that traditional Creole medicine utilized chayote leaves in tea to treat vascular diseases.
Ingredients:
3 tablespoons extra-virgin olive oil
3 tablespoons cider or white wine vinegar
½ teaspoon celery seeds
½ teaspoon mustard seeds
¼ teaspoon red pepper flakes
½ teaspoon honey
3 chayote (seeded and coarsely grated)
2 medium carrots (coarsely grated)
½ medium red onion (finely chopped)
½ yellow bell pepper (finely chopped)
½ cup parsley (chopped)
½ cup sliced almonds
Directions:
Add oil, vinegar, celery seed, mustard seed, pepper flakes, and honey to a small sauce pan. Bring to a boil. Remove this vinaigrette from the stove and set aside to cool while preparing chayote.
Chayote holds a lot of moisture, so be sure to squeeze out as much liquid as possible once it has been grated. You don't want it to be watery. I shred it over paper towels; then fold the towels over, roll it up, and twist to get rid of the excess water.
Place chayote in a large bowl and stir cooled vinaigrette in, then stir in carrots, onion, bell pepper, and parsley. Stir, cover and chill for at least 30 minutes. Transfer to a serving dish and garnish with almonds before serving.
Serve as a side salad or as a dip (think salsa) for your favorite tortilla chip.