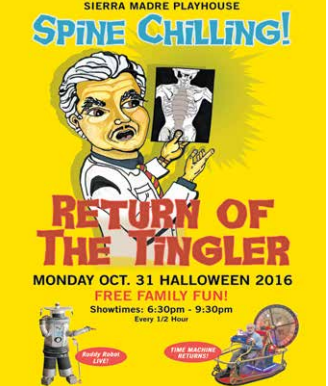 On Monday, October 31 — Halloween — the Symbiotic Society and Team Tingler will present "Return of The Tingler. This live show will celebrate the City of Sierra Madre's annual Halloween festivities and will be held at the Sierra Madre Playhouse at 87 West Sierra Madre Blvd.
A parody of the 1959 classic cult film that featured none other than Vincent Price, "The Tingler," this live show will run every half hour from 6 p.m. to 9:30 p.m. on Halloween night only. Rated FG for "funny, not gory," this event is free for kids and the whole family. Making a special appearance prior to the show will be "Roddy," the Symbiotic Society's very own life-size "Sci-Fi" robot who will be on hand to personally greet trick or treaters and theatergoers. Reminiscent of everyone's favorite robot from the hit TV series "Lost in Space," "Roddy" loves selfies and will be happy to pose for photos!
A note of caution: Tinglers have been known to escape and attach themselves to people. (Should any unexpected injuries occur, we will have specially trained trauma nurses on site for your protection!)
"Roddy" will be located just outside the playhouse next to the full size replica of the famous time machine featured in the 1960 hit movie, "The Time Machine." A huge hit with fans last year, the amazing replica of the film's original time machine is being brought back by popular demand. You won't want to miss it!
The event and live show are being presented by The Symbiotic Society (an advocacy group charged with promoting the Human and Tingler Alliance) and Home of #TeamTingler. It's not just a catchy hashtag — it's a movement!
For more information, please visit the Web site at www.yourtingler.com or visit them via social media on Facebook, Twitter and Instagram @teamtingler, #TeamTingler.