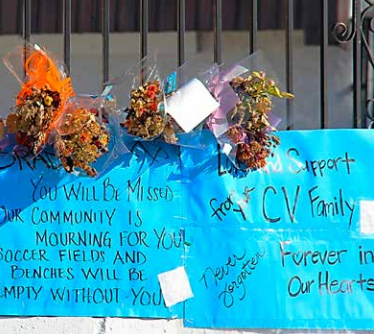 Last month, I wrote a short article introducing the Sunland-Tujunga Safe Streets Committee to our community. I gave a brief description of Vision Zero and of the traffic goals Mayor Garcetti plans to achieve over the next ten years. I also told a quick story of how I almost landed my two boys and myself in a car accident on the way to the Safe Streets Committee meeting. Had I not been conscious of my speed, I may have been in big trouble. On the morning of September 7 a La Crescenta resident named Brad Elze was commuting to work on his motorcycle, when he was fatally struck by a car turning left onto Foothill Blvd in Tujunga. The accident is still under investigation. So far, there is no sign of "distracted driving" on either part of the drivers.
I am not particularly sure why these traffic issues seem to be affecting me so much nowadays. Is it because I joined the Safe Streets Committee? Is it because I am in my forties now, and I find myself driving slower, shaking my fist at speeders, shouting from the safety and privacy of my own car, "Slow down, you young punks!" Or is it because I realize that Brad Elze is more than just a Los Angeles traffic statistic. He was a father of two boys, just like me, who was killed in a traffic accident on his morning commute. And this happened on our Foothill Blvd, a street that has been identified by the Los Angeles Department of Transportation as one of the most dangerous streets in the entire city of L.A.
So what do we do? We need to do more than honor these victims. We need change. Vision Zero is about change. Slow and gradual change. Los Angeles Mayor Eric Garcetti's goal is to eliminate all traffic deaths in the City of Los Angeles to zero by the year 2025. Yes, that is correct. ZERO. And how does he plan on accomplishing such an idealistic feat? His administration has brought together citywide effort from police officers, transportation engineers and policymakers to work together to make our streets safer.
Vision Zero is a "datadriven" approach to traffic that looks at all available data, informing where injuries are occurring most frequently and examining the conditions that are causing these collisions. The data resulted in the High Injury Network (HIN), a collection of streets in Los Angeles that see the most traffic injuries. Vision Zero has identified sections of our Foothill Blvd running through Tujunga and Sunland as part of the HIN. Their results and data were configured by using information from the last five years of collision reports. Since we have been identified as a HIN street, the city's next step toward their Vision Zero goal includes conducting an in-depth analysis of these collision reports with existing environmental, or "built environment" data, such as street width, presence of street lights, etc. The findings of this analysis will activate the Vision Zero Action Plan. The "action plan" sends resources to our streets. These resources may include signalization, changes in road design, street markings, and speed control measures. By focusing resources on our streets, we can get closer to our Vision Zero goal.
This month the Sunland-Tujunga Safe Streets Committee will be meeting with Nat Gale from Vision Zero. Nat works for the Los Angeles Department of Transportation as a civil engineer. He has worked as a transportation planner in New York City and as a geotechnical engineer in Portland, Oregon. We are proud to welcome him and his solutions to our great city.
Vision Zero is about change… and change is coming. We can start now by becoming more conscious about the HIN road we are driving on everyday. Did you even know that you are driving on a "high-injury" road? Now you do. Will that change the way you approach our intersections on Foothill Blvd? I hope so. I have become aware of the dangers of left turns onto Foothill Blvd. The woman who almost hit me and my sons last month was making a left turn onto Foothill Blvd from the library parking lot. Brad Elze was hit by a PT Cruiser making a left turn onto Foothill Blvd at 5:30 in the morning. Please be aware of the HIN street you are driving on, and take time to notice the risks you take when making a left turn onto Foothill Boulevard.