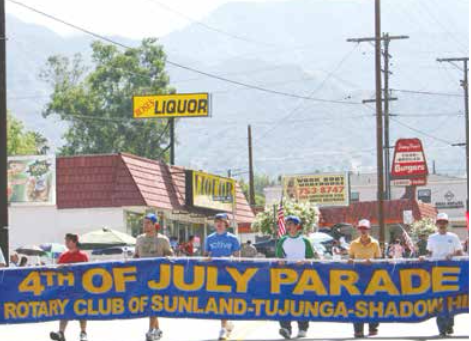 The Sunland-Tujunga Rotary club is in danger of losing its charter from Rotary Club International. With dwindling membership and loss of control of how the 4th of July parade should be run, the parade is in jeopardy of being cancelled this year. Rotary president Roger Klemm attempted to deny residents a place in the parade and violated their 1st Amendment rights of freedom of expression last year, and enlisted the help of Kurt Koesler who drove his golf cart like a maniac up and down Foothill Blvd. while "Flipping the bone" at onlookers and parade participants. Not a good showing for Michelle Ramage who ran the parade from behind the scenes. Parade entrants were down 50% from the previous year and hooligans were throwing water balloons at everything that moved. All major past participants such as the VHHS Marching Band, the Blue Shadows Equestrian
team and other equestrian groups have refused to be in the parade this year including Rotary member Bren Boo who claimed sexual harassment. With a lack of funding and a lack of responsible Rotary members, the parade should be shut down.
What is your opinion? Please inform Eve Sinclaire at the North Valley City Hall.