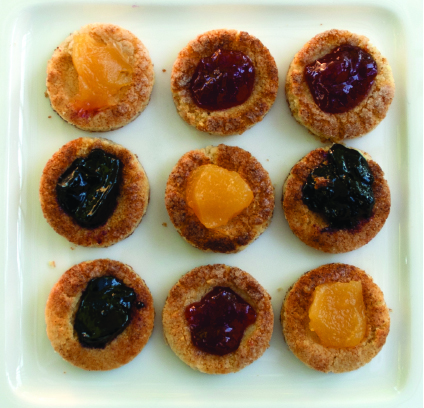 By Chef Randy
As a kid I asked my dad how the impression in these cookies stayed there after baking. He just shrugged and said, "I don't know the answer son. I just know they are a treat."
As an adult I learned that thumbs are the answer to the perfect jam-filled cookie. Yep. Good old opposable thumbs. I've used my index finger in the past and always come back to using my thumb. Somehow it just feels right.
These cookies are fun and colorful and appeal to the kid in all of us.
Ingredients:
1½ cups all-purpose flour
1½ cups raw almonds (roasted)
1 teaspoon baking powder
½ teaspoon kosher salt
1 cup unsalted butter (room temperature)
½ cup granulated sugar
1 large egg
1 teaspoon vanilla extract
½ cup raw sugar
(to roll cookie dough in)
Jams and/or lemon curd (for filling)
Directions:
Preheat oven to 375 degrees. Pulse flour and almonds in a food processor until almonds are finely ground. Add baking powder and salt and pulse to blend. Using an electric mixer on high speed, beat butter and sugar until light and fluffy, about 4 minutes. Add egg and vanilla and beat until pale and fluffy, about 4 minutes. Reduce speed to low and gradually add dry ingredients. Mix just enough to combine.
Place raw sugar in a shallow bowl. Scoop out dough by the tablespoonful and roll into balls (if dough is sticky, chill 20 minutes). Roll in the raw sugar and place on 2 parchment-lined baking sheets, spacing 2" apart. Bake cookies for 5 minutes and remove from oven.
Using your thumb, make a deep indent in each ball. Bake cookies, rotating baking sheets halfway through, until golden, 12–14 minutes. Transfer to wire racks and let cool. Fill with seedless jam or lemon curd using a small spoon.