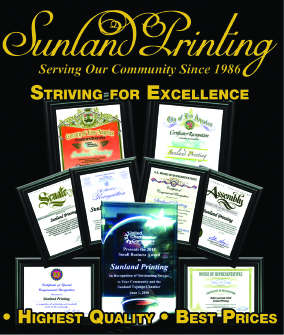 June 2018 was a champagne day for 9 valley businesses, including Sunland Printing, which was chosen to receive "The small business award for 2018," for outstanding contributions to their community.
The Greater San Fernando Valley Chamber of Commerce, which presents these awards, represents over 22,000 valley business members from which recipients are chosen.
"Striving for excellence" is more than a slogan, it is the foundation of Sunland Printing and Graphic's success.
From day one when Robert and Julie Ward opened the door of their first location in a 12' X 12' building in 1986, their goal was to offer copies, typesetting and layout, offset printing, customer service and reasonable prices unmatched in the area.
Since then, during every decade, Sunland Printing has doubled in physical size and invested in expanding digital technology.
Today Sunland Printing occupies their own 1,500 sq. ft. building at 7566 Foothill Blvd.  The building houses the foothill communities' most advanced -in-house graphic design and digital printing facilities.
The digital process begins on the latest Apple iMac computers. Sheet printing is accomplished on a Zerox Versant 180 digital press. Banners, labels, vehicle wraps and oversize reproductions up to 5' wide X almost any length are digitally printed with eco-friendly latex ink via HP Design-Jet printer.
To serve the foothill design and construction community, Sunland Printing offers scanning and printing of engineering drawings and prints from paper or digital originals 12" X 18" to 35" X 60" in hi-rez color @ 1200 dpi.
"It is only fitting that in receiving the United Chambers of Commerce "Small Business Award of the Year" for 2018 that we thank you our customers from the foothill communities who have supported Sunland Printing for 3 decades. We look forward to many more years of providing the foothill communities with the latest and most reasonably priced graphic and printing services," say Julie and Robert Ward of Sunland Printing.