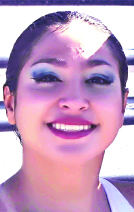 As Los Angeles prepares to host the 2028 Olympics, we wanted to share that Tujunga has an up & coming aspiring Olympian in their community.
Mercedes Rodriguez, a Tujunga Resident and local Verdugo Hills High School student recently qualified at the Southern California Regionals in San Diego to compete in the 2018 Junior Olympics Synchronized Swimming event in Oxford, Ohio. She will be in Oxford, Ohio June 23rd-July 1st for the week-long high-level national event. Only the top teams qualify to compete at the Jr. Olympic level-a Team USA sponsored event, and Mercedes will be competing in the Jr. Duet event  Mercedes has been training with the Los Angeles Synchronized Swimming Club, for the past 2 years, but has been swimming since she was 10. It takes a lot of dedication and sacrifice to train long hours sometimes in extreme weather including rain.
Her future plans includes a spot on nationals and collegiate level team, When she's not training she giving back to the community as a volunteer synchro coach at local county pools. More than anything she loves being in the water, because water is her realm.