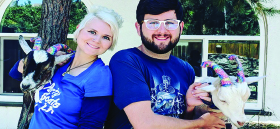 By Mary Anne Been
The La Tuna Canyon area is full of colorful and creative people who own small businesses. One of which is Scout Raskin who owns, Party Goats LA. Yep, you read that right. Goats that like to party. Scout started Party Goats LA in 2017 with Spanky and Pippin, two Nigerian Dwarf goats from Inyokern California. Scout enjoys bringing the joy of goats to everyone. Their services include the very popular, Goat Yoga, Hiking with goats, and Television and movie appearances. Actually, these two are used to partying with celebs like Gordon Ramsey, Drew Carey, and Olympic Snowboarder Shaun White. After meeting Pippin and Spanky I can say they definitely have personalities that are fun and engaging. My daughter and I had the best time playing with them.
Goat Therapy is also available to those who use animal based therapies for social and emotional disabilities.
– "Much like Equine Therapy, interacting with goats has many emotional benefits for those with social/learning disabilities, drug/alcohol dependency, PTSD, and those who simply need to disconnect from whatever struggle they are working through."
Scout has worked with her all female team of seven wranglers to train Pippin and Spanky for each type of service they are hired for. Their services are mobile. Simply call or click to book a service and they arrive, perform their service and then clean up (eh-hem) before they leave.
Website: WWW.PartyGoatsLA.com,
How to reach Scout and her goats: You can call or email as well at [email protected] or (818) 962-0336.
Find them on social media at,Facebook/PartyGoatsLA and Instagram, @PartyGoatsLA