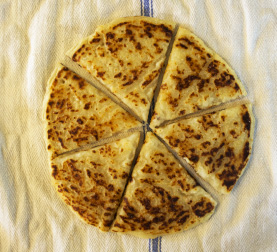 Potato scones, called tattie scones or totties, are common fare in Scotland. An article printed in the travel section of the NY Times in 2005 says that:
Ask where the name scone came from, and you may be unwittingly caught up in a local controversy. Many dictionaries — even the Scottish National Dictionary — say the root word is schoonbrot, from a Middle Dutch word meaning fine bread, but a number of Scottish food historians reject that theory, and opt for the Gaelic word sgonn. Macalpine's Gaelic-English dictionary defines sgonn as "gulp, glut, eat in large mouthfuls." In "The Scots Kitchen," first published in 1929,  F. Marian McNeill, doyenne of Scottish food writers, accepts sgonn as the root but defines it as "a shapeless mass."
Shapeless mass or not, do not make them with leftover mashed potatoes. That would be wrong. Cold mashed potatoes have a completely different texture than hot potatoes, and would produce a completely different texture/taste. 
I use a ricer for the potatoes but if you don't have a ricer, traditional mashing will work, not to worry! I also prefer the sweetness of Kerrygold butter for this recipe because I like the taste of Kerrygold's fresh dairy products. Any butter will do but try this at least once with Kerrygold.
Ingredients:
4 large Russet potatoes (washed but not peeled) 
2 tablespoons salted b utter (softened)
½ cup + 1 tablespoon flour
¼ teaspoon baking powder
½ teaspoon salt
Directions:
Cut the potatoes into quarters and boil for about 25 minutes or until you can easily poke them with a fork. Rinse under cold water to stop the cooking process. While still warm but not hot, peel the potatoes. 
"Rice" the potatoes into a large mixing bowl. Add butter and gently mix until it is completely incorporated. Gently fold in flour, baking powder, and salt to form a soft dough. The dough will be soft and sticky. Taste and add additional salt if necessary. 
Divide the dough into 4 equal portions and roll each into a ball. Taking one ball, roll into a ¼-inch-thick round and prick with a fork. Repeat for the other three balls of dough. 
Preheat a nonstick pan or griddle on medium. When the pan is hot, cook the scones until brown – about 5 minutes per side. Remove the scone from the pan and cut into six equal pieces. Serve with a full Scottish breakfast or eat as is with a bit of butter. Freeze leftover scones for another day.
Note: To freeze for later, make sure the scones are completely cool. Then put them in a container with pieces of wax paper or parchment paper in between (so they won't stick together). To reheat, defrost and then pop them in a toaster. I also like to defrost and then to fry them with a wee bit of ghee on a medium-hot griddle for about 1 minute per side.