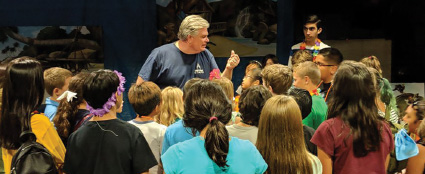 By Amelia Anderson
This large sign presided over the door of our Tujunga Canyon Church. It was the midst of July summer-time when all were sweltering from 100 degree heat, but the walls and halls were bursting with activity. Had a large Tsunami wave come ashore? It was a weekday early morn, but the parking lot was full and kids dressed in scant desert gear with their dads and moms were entering and exiting in a hubbub of isle activity. I addressed a bearded Youth Pastor, Matt Mitchell, disguised as swashbuckler Captain Ahab, replete with patch on eye, bandana on head and a swinging sword festooning his baggy pants. "What's going on," I queried "Come on in," he invited.
As I entered the darkened church, I was transported into a tropical island paradise depicting a ship wrecked backdrop stretching floor to ceiling set upon Pastor Scott LeLaCheur's stage. Lit from the rear by a bank of blue and gold stage lights, it was overrun by 60 or 70 grammar school kids attired in ship-island costume singing and dancing and chanting a chorus line of praise for Jesus who comes to their aid and rescue in time of need.
It's VBS, yearly Vacation Bible School, when Summit Christian Church hosts a week of free half-day community outreach to kids to help parents provide a safe energy outlet and to help entertain them during the summer months. Sound like a handful? Not a problem for a veteran Children's Pastors Mike and Margaret Woods who have been producing these Broadway style different themed skits yearly for the past 30 years.
The children participate in games, lessons and creative activities. They are divided into teams and are able to participate in planned activities with their friends using both the church and grounds. Each day begins with a planned skit as well as singing and dancing, the words and movement appear projected onto screen. The kids rotate between snacks and games all selected according to chosen theme. Daily events include a workshop titled Imagination Station, where kids mix art and science by creating experiments and take home projects. There is also an interactive Bible lesson.
A slideshow is created at day's end from photos selected throughout the day. Judging from the squeels of delight and joy of laughter, the VBS is number one on their Hit Parade. And they can't wait to come back next year! So, if you want to join them, call Summit Church at: 818-353-1138.
Other churches have programs, too, but sometimes they get so busy with the kids they forget to advertise or even send out a press release. So just give Doc a call at 818-482-9760. Five thousand papers are distributed twice a month. It's a great way to reach more kids! Even the moms have fun.