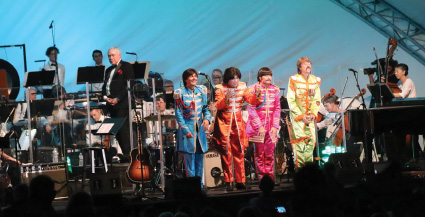 By Carla Breitner
Pasadena Pops brought The Beatles to their summer concerts at the LA Arboretum last Saturday evening and set a record with over 5,400 attendees. "Classical Mystery Tour: A Tribute to the Beatles" features four excellent musician-singers performing Beatles songs with orchestration transcribed from the recordings and ably conducted by Pops conductor, Larry Blank. The Fab Four, in mop-top haircuts and matching black suits, began the concert with early hits. Tony Kishman as Paul McCartney sang "Yesterday" with backing by the string section as the other band members changed to Sgt. Pepper Band outfits. 
Paul made a quick change and the band played a few numbers from the Magical Mystery Tour album. Tom Teeley as George Harrison stepped forward on "Here Comes the Sun," handling vocals and Eric Clapton's guest guitar break. Abruptly the orchestra started warming up, performing the opening of "Sgt. Pepper's Lonely Hearts Club Band." The "Mystery Tour" Beatles started singing "We're Sgt. Pepper" and played four songs from side one straight through. Doug Cox as Ringo Starr took the vocals on "With a Little Help from My Friends." "Mr. Kite," "Sgt. Pepper's (Reprise)" and "A Day in the Life" (with climbing, closing chord) ended the first half.
After intermission, the band (appropriately attired) celebrated the 50th anniversary of "The White Album," with five songs. Then Kishman as Paul sat down at the piano to sing "Long & Winding Road" and "Live & Let Die." Jim Owen as John Lennon took over the keyboard to perform "Give Peace a Chance" and "Imagine."
The audience joined in waving iPhone candles. The "Classical Mystery Tour" Beatles closed out the evening with "Golden Slumbers/Carry That Weight" and "The End" from Abbey Road. The audience got to join in on an encore "Hey Jude" and dance along with "Twist and Shout." All the performers were spot on in their interpretations, the orchestra joined in enthusiastically, and the audience went home singing, having experienced the live performance of music that originated in recordings only. It was a night to remember.
The Mop-Top Beatles (left to right: Paul McCartney, George Harrison, Ringo Starr, John Lennon)
The Sgt. Pepper Lonely Hearts Club Band with Larry Blank conducting the Pasadena Pops. Beatles are Ringo Starr on drums, Paul McCartney bass guitar, George Harrison guitar, John Lennon piano.
The Sgt. Pepper Lonely Hearts Club Band take a bow. Left to Right: Paul McCartney, George Harrison, Ringo Starr, and John Lennon. 
"The White Album" Beatles: (left to right: Paul McCartney, Ringo Starr, George Harrison, John Lennon)
John Lennon at piano singing "Imagine" as video screen shows audience holding up cellphone "candles."
Paul McCartney calls for audience (and orchestra) help singing chorus for "Hey Jude."